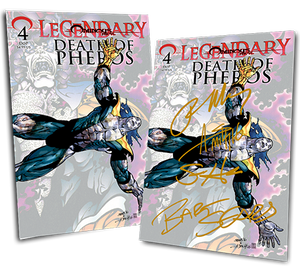 OMINOUS PRESS LEGENDARY #4: DEATH OF PHEROS
Ominous Universe
RELENTLESS. POWERFUL. COMICS.
Completing a story 20 years in the making!
Featuring of all-new art and story by Bart Sears!
Framing sequence by Ron Marz and Tom Raney!
48 pages, including bonus material, for only $4.99!
Standard cover by Bart Sears!
Get the signed comic for only $29.95!
Signed by Bart Sears, Ron Marz, Andy Smith,
Tom Raney and Sean HusVar.