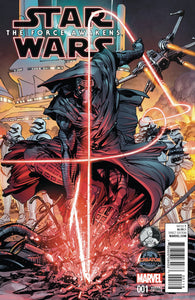 STAR WARS: THE FORCE AWAKENS #1 - Neal Adams Variant 2016
Marvel Comics
Regular price $30.00 Sale
Neal Adams Exclusive Variant
Star Wars: The Force Awakens Adaptation #1 Neal Adam's Variant. This variant features an exclusive cover designed by legendary artist NEAL ADAMS.
First appearance of Kylo Ren, Rey, Finn and BB-8
First Cover Appearance in comics of KYLO REN!
Co-produced by Lucasfilm and Bad Robot Productions; STAR WARS: THE FORCE AWAKENS is the multi-record breaking blockbuster film that restarted one of the greatest film franchises in history.
Creator Universe exclusive.
Strictly Graded 9.4 NM or Better!
This exclusive Variant was Limited to only 3000 copies!